The process of design and production of the digital map has taken place throughout the months of November-December 2017. During its development we have invited to talk with us different agents working in or with the culture in the city of Alicante.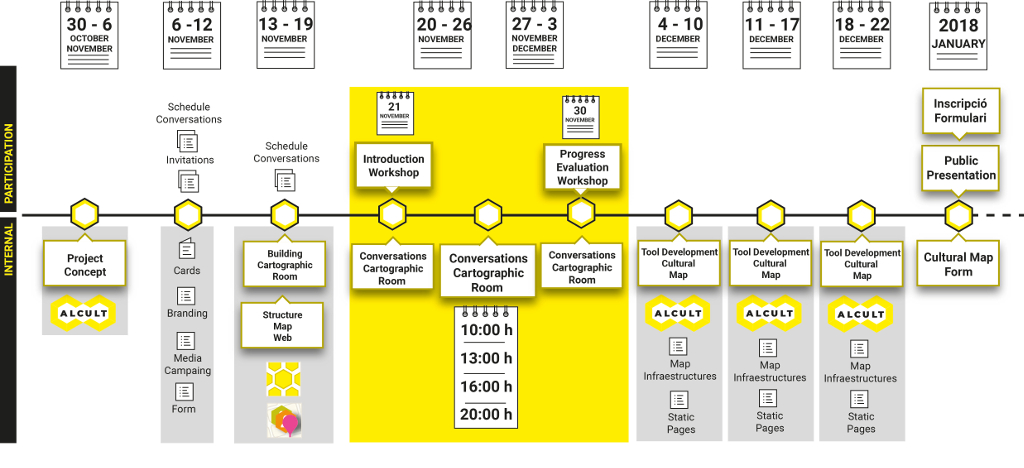 >> 3 Steps of Participation
The participation process was articulated in three landmarks:
Presentation, Testing, Design and Prototyping Workshops:The first public workshop, offered in four different times of the day for reconciling family obligations and promoting assistance. In this Presentation Workshop, in the 'Caja Negra' in Las Cigarreras Cultural Centre, we explained to you how we imagined the map and we invited to geolocate yourselves in the map.
Conversations in the Cartographic Room. Meetings with different agents to share points of view and develop the code.
Progress and Evaluation Workshop. Progress presentation workshop, in the 'Caja Negra' in Las Cigarreras Cultural centre, were we showed you our proposals of visualization of the geolocated and semantic map. (photos)
>> Cartographic Room
In order to foster the conversations among the different cultural agents we put to work the Cartographic Room, a space inside Las Cigarreras Cultural Centre.
We understand this map of the culture of Alicante as an open process in which new cultural practices develop endlessly. It is necessary to detect, visibilize and connect them with the existent practices in order to create an attractive cultural network. Simultaneously to the internal work of development and conceptualization of the digital tool, we proposed that the gathering of data was made with the aid of a physical map that would connect the different agents in the project and articulate the different categories of culture in the city.
This room had two main objectives: that we were able to meet in person so you could inform us of the necessities of the cultural community in Alicante, collecting your needs, wishes, discourses and proposals and to debate our proposals for the coding of the online tool.
>> Participation Data
7 weeks for making the MAP: 2 weeks od conceptualization and Participation and 5 weeks of development.
20 public sessions in 2 weeks
Family and work reconciliation: meetings scheduled in 4 different times a day for you to be able to choose when to come
More than 500 invitations sent by email to cultural agents in the city and every member of the Cultural Board of Alicante
Online form with 91 people inscribed
60 of them inscribed for the 4 sessions of open participation in the Cartographic Room, 30 of them assisted
30 people have participated in the collaborative podcast
We have spoken with more than 100 people
2 weeks of many encounters, all of them useful for the collective design of this map. Many thanks to all who assisted! Without you the map wouldn't be the same.